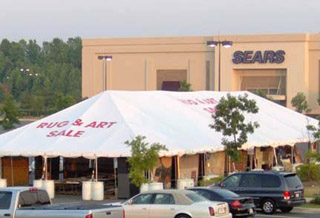 USA Specialty Marketing supplies marketing and management assistance to a group of closely-affiliated independent contractors who own and operate Rug & Art Tent Shows. As one of its prime functions USA provides its affiliates with centralized booking at major shopping malls and smaller shopping centers across America.
The highly distinctive, brilliant white tents attract tremendous attention and let all mall shoppers know that a speciality marketing event is indeed taking place. With 4,000 square feet under canvas, there is plenty of room to display a wide selection of machine-made and handmade area rugs as well as a plentiful stock of attractive oil paintings and frames.
USA began operating tents since 2005 and we have mounted shows at all major mall groups in America. Having been in the retail and wholesale rug and art business since 1989, we have established a network of supply lines which allows us to bring an exceptional array of product to our tents.
In the true spirit of American entrepreneurship, USA's tent owners go the extra mile to deliver a level of personalized customer service rarely found in today's marketplace. We have an unconditional return policy. If a customer is unhappy with a product for any reason, we stand behind it and we will happily refund their money or exchange it for another product. Because of this we are invited back to malls year after year.
We look forward to partnering with you mall.
Sincerely,
Kaye Champagne, CEO
USA SPECIALITY MARKETING